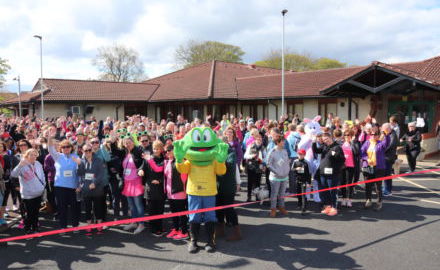 The Hospice to Hospice Walk is back!
Added 8th February 2019
This week the Hospice launches its 13th annual Hospice to Hospice Walk.
This week the Hospice launches its 13th annual Hospice to Hospice Walk.
On Sunday 28th April, eager walkers are being asked to join in the fun of the Hospice's annual Hospice to Hospice walk!
The circular walk will give you, your family, friends and even your beloved pets the chance to take part, have fun and raise money for the Hospice along the way!
The walk will begin at Springhill Hospice,, where the 7.25 mile round trip (that's a massive 15,000 steps!) will take its walkers over to Dr Kershaw's Hospice in Oldham. Walkers will be able to rest their feet, have a brew and a chat at Dr Kershaw's before making the trip back to Springhill where they will complete the walk and be presented with a commemorative medal, certificate and a well-earned rest!
Springhill's Events and Campaigns Fundraiser Rebekah Cheshire said "Our Hospice to Hospice Walk is one of our larger annual events and every year it continues to grow. We are very much looking forward to welcoming our fabulous supporters to take on this challenge to celebrate our 30th Anniversary year. We'll see you there!"
The walk welcomes everyone from the seasoned walker to those who want to take in the views at a slower pace, either way everyone is guaranteed to have fun and definitely burn some calories!
There is no time limit on when you must complete the walk just the opportunity to have some fun and help out the Hospice.
You can join hundreds of walkers from Springhill Hospice by signing up online at www.­springhill.­org.­uk/­hospi­ce2­hos­pice, or if you prefer a traditional paper application form please contact the Fundraising Team at the Hospice on 01706 641 790.
You can sign up on your own or as part of a group (up to 10 people per application). Registration is just £7 per person which will give you a bottle of water, refreshments and that all important medal and certificate.
For more information about this event or details of other ways to support patient care at Springhill Hospice, please contact Rebekah Cheshire by phone on 01706 641790 (opt 1) or by email on Rebekah.cheshire@nhs.net.