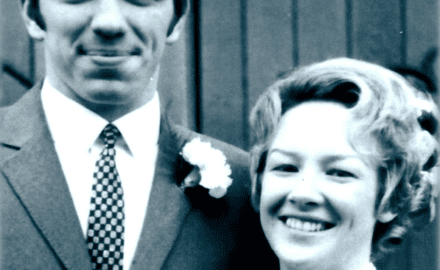 50th anniversary spreads the joy with donations
Added 28th May 2019
To celebrate their 50th wedding anniversary, our wonderful supporters generously donated to the Hospice.
Asking a bride to bring forward her wedding plans so her groom could play rugby would not usually be the ideal start to married life but for Phyl and Tony Pratt it's just one more golden memory of their 50 years of happiness together. And by asking friends for donations to Springhill Hospice instead of presents the couple have spread their happiness even further.
Going back 50 years, to the 1st March 1969, it was quite a hectic wedding day. Former Rochdale Hornets player, Tony was set to join the line-up to play Wakefield Trinity in The Challenge Cup later that afternoon. On Friday 28th February 1969, Phyl and Tony were asked to bring forward their wedding ceremony from 3pm to 11am. After some discussion, both agreed and Hornets took over the arrangements for the wedding.
Their special day drama continued however, when Tony, along with fellow Hornets player Mike Ratu, ran directly from the ceremony to the team coach to travel up to Wakefield for the game. The result was a draw at 10-10 causing Phyl and Tony to return from honeymoon for the replay at Hornets old Athletic Ground stadium where 15,000 spectators watched, only for Hornets to unfortunately lose the match.
Jump forward 50 years and Tony with fellow members of the Rochdale Hornets Ex-Players Association visited the Hospice to hand over more than £1,200 raised in donations. The happy couple also celebrated their Golden Wedding anniversary with a party at Rochdale Golf Club surrounded by family and friends. Thanking all concerned for their generous contributions, Tony said, "Springhill Hospice plays an important part in so many people's lives. Phyl and I would like to thank everyone who has made it possible to donate this money to such a good cause."
Director of Clinical Services at Springhill Hospice, Sheila Johnson, thanking long-term hospice supporters, Tony and Phyl, said, "We are incredibly grateful for this wonderful donation. Their continued commitment to the work of the hospice is very much appreciated and plays a vital part in keeping this wonderful place open after thirty years."