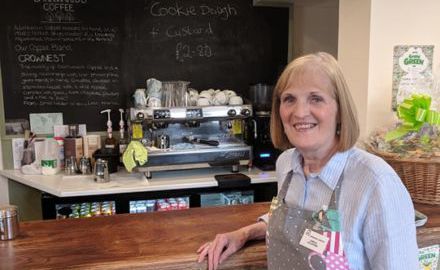 What's it like to be a volunteer?
Added 5th June 2019
This Volunteers' Week we spoke to one of our volunteers, Carole, about her experience at the Hospice.
Volunteers' Week is taking place this week up and down the country.
With 450 volunteers, Springhill Hospice knows first-hand the importance and value of volunteering in the community. People from across Rochdale help out in all aspects of the Hospice. Roles include assisting on the wards, in the kitchen preparing and serving food, serving customers in one of the nine retail shops and so much more.
Volunteers at the Hospice vary in age (some of which have been volunteering at the Hospice since it opened its doors 30 years ago) and come from all different backgrounds, but they all have one goal, to support the Hospice.
Off the back of the Hospice being awarded the Queens Awards for Voluntary Services this week; we spoke to one of our volunteers to find out about what it's like to volunteer.
Carole Merchant has been a volunteer at Springhill Hospice's Coffee at the Craven since 2014. She is a vital member of the volunteer team who run Front of House in the café.
What made you want to become a volunteer at Springhill?
"After retiring from working in the caring profession, I felt that I would like to give some of my time doing voluntary work that would benefit the Hospice and the local community."
What is your favourite thing about volunteering at Coffee at the Craven?
"I enjoy working as part of a team and meeting new friends. I like meeting customers and chatting to them whilst giving them good customer service. I enjoy all aspects of being a volunteer really!"
Why do you think it is important for people to volunteer?
"Volunteering helps to keep the running costs down and contributes to the running of the Hospice 365 days a year. It is just very rewarding to do."
What advice would you give to someone who is thinking about volunteering?
"I would encourage them to do it. Volunteers are always needed and there are so many areas they could think about volunteering in. I would also let them know how much I enjoy volunteering too."
If you would like information on how to become a volunteer at Springhill Hospice, visit our webpage; https://­springhill.­org.­uk/­volunteering