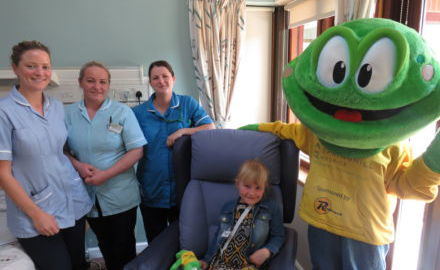 Superstar Ella helps fund equipment for Springhill Hospice
Added 3rd July 2019
Superstar fundraiser, Ella, will be able to help buy a very special chair for Springhill.
Five year old fundraiser, Ella Lockwood, really went the extra mile after raising more than £1000 for the hospice by taking part in the annual Hospice to Hospice Walk.
The money Ella has raised from the walk will now be used to help buy a state of the art reclining chair for the in-patient ward. The chairs are used in each room on the ward and allow those using them to be able to adjust to an almost standing position, to lying in a practically flat position. They are also used as a bed for those wanting to stay near a loved one while they are at the hospice.
Ella visited the hospice with her mum, dad and brother to see a chair similar to the one her donation will be spent on, along with getting to meet Springhill mascot Springy.
Ella took part in the 7.25 mile walk back in April to raise money for the hospice in memory of her great grandma Carol. But the donations continued to pour in for Ella's efforts and she managed to raise over £1000 for Springhill.
Julie Halliwell, Chief Executive said "It was so nice that Ella could come into the hospice, and see first-hand the chair she will be buying for us. I was astounded to learn that at just 5 years old, Ella had managed to undertake such a long walk, and wanted the money she had raised to be used to ensure patients and families were comfortable, just as her great grandma Carol had been. We are so grateful to Ella for her support".
Along with the money that Ella has raised, money from the hospice's new fundraising appeal, 'Comfort for All' will also go towards getting new equipment like the reclining chair but also other items such as beds, mattresses and beside tables and lamps. For more information about the appeal visit;
www.­springhill.­org.­uk/­comfort-for-all