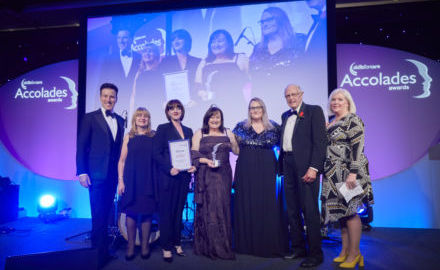 Springhill Hospice Education Team win national award
Added 3rd February 2020
Our Hospice Education team won a national award for their innovative training programme for health and social care staff.<br><br>The Skills for Care Accolades award ceremony took place in London on Wednesday 22nd January, where the team were&hellip;
Our Hospice Education team won a national award for their innovative training programme for health and social care staff.
The Skills for Care Accolades award ceremony took place in London on Wednesday 22nd January, where the team were awarded with the Most Innovative Endorsed Learning Provider.
The award was given to the Hospice for their innovative Passport training programme. The training is given, free of charge, to health and social care professionals across Heywood, Middleton and Rochdale. It focusses on palliative and end of life care education and has been delivered by the team since 2015.
The team were delighted with their win and were presented the award by TV dance legend Anton du Beke.
Jane Ashworth, Education Lead and Specialist Palliative Care Nurse at Springhill Hospice said: "Everyone who attended the awards ceremony was absolutely delighted when our name was read out. To have that recognition on a national stage of all the hard work our tireless team puts in all year round feels amazing.
"We are totally committed to making sure social care and health workers can develop their skills and knowledge because we know that means the people we work with have genuine choice and control over the lives."
A panel of expert judges were impressed by our Education Team's innovative and passionate approach and the positive impacts being achieved across social care and health. The judges liked how trainers were empowered to challenge a service, and how they provided tailored support to people around learning disabilities and dementia.
Skills for Care Interim CEO Andy Tilden said: "Our Accolades awards are open to our growing network of endorsed leading providers who like the Springhill Hospice team have to complete a very tough evaluation process to win our highly prized endorsement.
"The result of all that hard work in the team at all levels can access learning and development opportunities that means the people they work with know they can rely on high quality services so they can live the lives they want to."