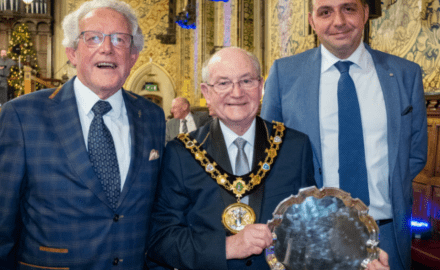 Paul Ellison and Ray Smith named Man of Rochdale 2019 joint winners
Added 26th November 2019
The Men of Rochdale gathered once again for their annual celebration at Rochdale Town Hall on Friday 22 November to support Springhill Hospice.
This year deserves winners were Mr Paul Ellison and Ray Smith who were both named Man of Rochdale in a joint award. Both men are known for their huge involvement with the 'In Bloom' groups.
Paul said; "I was over the moon and it was a bit unexpected. Its unprecedented that they would give this award to two people but that makes it even more special because both me and Ray are in 'bloomers' together and it's nice that the work of 'Pennine in Bloom' and 'Rochdale in Bloom' has been recognised for making the area look nice and for considering the environment. I also couldn't ask for a better person to be given this award with than Ray."
Ray said: "I wasn't expecting it at all – and for all 'In Bloom' groups in Rochdale, it is a privilege to be given this award today" ​
Mr Ellison and Mr Smith were presented with the plate bearing the names of all the previous winners of the award by Man of Rochdale 2018, John Kay.
John said; "I was surprised and delighted to be made Man of Rochdale for 2018 and delighted to see so much money being made for the Hospice which has always been one of my favourite charities."
The prestigious event held at Rochdale Town Hall saw over 260 guests enjoy a delicious four course meal and were entertained by guest speaker, footballing legend, Bruce Grobbelaar. The event is organised by Springhill Hospice and all money raised at the event goes back into supporting the local charity.
This year's award saw 40 local men nominated for the award.
Sophie Ansley, Corporate and Partnerships Fundraiser from Springhill Hospice said; This year's event was our most successful in 25 years. The Town Hall was full to capacity and the money raised will make a massive difference to Springhill Hospice. Many thanks to our sponsors, Jackson Jackson & Sons and many congratulations to both of this year's winners.