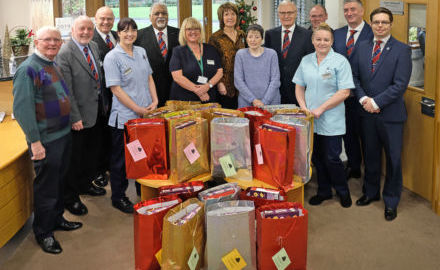 Spreading festive goodwill with the Freemasons
Added 27th December 2018
The Hospice was visited by the District of Rochdale Freemasons with hampers for patients and a generous grant.<br><br>
The Hospice has received some festive goodwill from the District of Rochdale Freemasons.
The Hospice had been chosen to receive a grant of £1,584 from East Lancashire Freemasons this Christmas.
The grant from East Lancashire Freemasons comes through the Masonic Charitable Foundation (MCF), and will be used for the benefit of patients and families in our care.
This is just one of 237 grants to Hospices around the country from Freemasons.
Julie Halliwell, Chief Executive of Springhill Hospice, said: "We're very grateful to the Province of East Lancashire Freemasons for their generous grant, which will assist us to provide support to our patients and their families.
"It is always a pleasure to welcome the District of Rochdale Freemasons into the Hospice to present their Christmas gifts.
"We have such a lovely time catching up on news.
"It's so good that the Freemasons are willing to take time out to meet some of our patients, and spend time chatting to them, and that they continue to support us year on year."
Along with the grant, the Freemasons delivered Christmas hampers to patients of the Hospice.
Those receiving the hampers are nominated by staff.
The hampers were filled with Christmas treats and staples for the festive period, including biscuits and fruit.
Douglas Smith, District Chairman of the District of Rochdale Freemasons, said: "We have been delivering the hampers to Springhill patients for seven or eight years now and it is very rewarding.
"The patients are so friendly and we can sometimes spend hours talking to them.
"It's great to be able to meet them all."