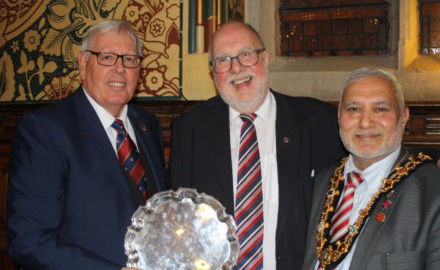 Man of Rochdale Nominations are now open
Added 9th August 2019
Nominations are now open for this year's award.<br><br>
The twenty-sixth annual Men of Rochdale Luncheon will take place in the Great Hall at Rochdale Town Hall on Friday 22nd November, once again generously sponsored by Jackson Jackson Ltd.
Last year's luncheon was the most popular yet, with over 260 guests in attendance and raising a brilliant £7000 for Springhill Hospice. This year, the luncheon will welcome a brilliant and vibrant sporting star as their guest speaker which will be announced very soon.
Sophie Ansley, Corporate & Partnerships Fundraiser at Springhill Hospice said: "Our Man of Rochdale event is one of the most popular events in our annual calendar. It's going to be such an honor to watch the new Man of Rochdale be crowned on this very humbling afternoon, and it's going to be a great social occasion for all of our guests."
To make your nomination for this year's 'Man of the Year' award, please complete the form on our website, https://­springhill.­org.­uk/­man-of-rochdale
Alternatively, you can email your nomination and endorsement to sophie.ansley@nhs.net. Your cover letter/email should be of no more than 500 words and the closing date for nominations to be received is Monday 28th October 2019.
Please note that your nominee can only be considered if he passes the following criteria:
He must work or live in the Borough of Rochdale.

He must not already have received a Royal award.

He must be an 'unsung' member of the general public having voluntarily given of his time and efforts to improve the lives of others within the Rochdale Borough.