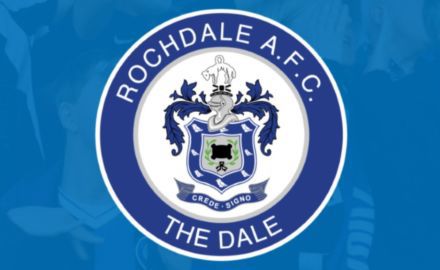 Rochdale AFC sign up as Springhill Business Buddies
Added 26th March 2021
DESMOND AND SPRINGY BUDDY UP!
Rochdale AFC's mascot, Desmond the Dragon, met up with Springhill Hospices Springy the Frog this last week to celebrate Rochdale AFC Community Trust becoming the latest members of the Business Buddies scheme.
Rochdale AFC Community Trust, the club's official Charity, will ensure the Dale are involved with various hospice events throughout the year, as well as running joint fundraisers for the benefit of both charities.
Ryan Bradley, Community Director, commented: "We are a registered charity in our own right so we appreciate how difficult it can be at times to fundraise for good causes. We signed up as business buddies as I think the Hospice and the Dale are stronger together, rather than working separately, and it gives us a focus for the year of things to get involved with."
Frances Fielding, Commercial Director, added: "We have been long term supporters of Springhill Hospice at the football club, holding bucket collections and supporting events. It's great to become formal Business Buddies and expand this support."
Sophie Ansley, Fundraising Manager at Springhill Hospice, finished: "We have had to adapt the services in which we provide over the last twelve months but through the generosity of our local community, we have still been able to provide the best care for those suffering with a life limiting illness.
"It was great to get Springy and Desmond together and sign off the deal and we are looking to get our face to face fundraising events back up and running as soon as possible."
The Business Buddies scheme provides a unique opportunity to build strong, mutually beneficial partnerships to develop corporate support and generate sustainable income and relationships within our local community.
As well as Hospice events such as Matchday bucket collections, Corporate Challenge and Go Green, Rochdale AFC Community Trust will organise joint initiatives, with the Rochdale AFC Military Veterans taking on their Oldham counterparts at the Crown Oil Arena on Saturday 8th May as one of the first fundraising events.
Rochdale AFC's first event will be a virtual bucket collection, which will run until the Easter Monday fixture on Monday 5th April. To donate please visit: http://­www.­justgiving.­com/­RochdaleAFC-Sprin­gHi­llHos­pice