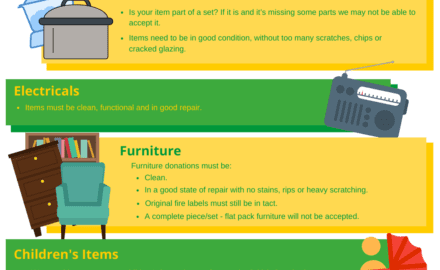 Donation Days at The Emporium
Added 16th June 2020
Our Donation Days begin on Wednesday 17th June. From 10am-2pm The Emporium will be accepting donations via the shop car park, while observing social distancing guidelines.
There will be four Donation Days at The Emporium including,
Wednesday 17th June 10am-2pm
Friday 19th June 10am-2pm
Monday 22nd June 10am-2pm
Thursday 25th June 10am-2pm
Before you drop off your items please read our checklist here to make sure that we are able to accept your donations.
To help us making your donation drop off as easy and safe as possible please try to help us by:
Ensuring your donations are in line with the items we can accept
Separating your items into categories and putting into individual bags (categories will include: Clothing, Shoes, Books, Household CD's and DVD's, etc)
Ensure bags are well sealed
Follow the instruction from Springhill staff when you arrive in the Emporium Car Park
Only one person to leave the car to hand over your donation
If you are already signed up for Gift Aid please attach a label to each bag or box with your Gift Aid number (if you have it), your surname, postcode and the date you are dropping the items off
Please be patient with us as we anticipate these days being busy. Please help by following the social distancing safety measures in place and also follow any instructions from our staff whilst you are dropping off.