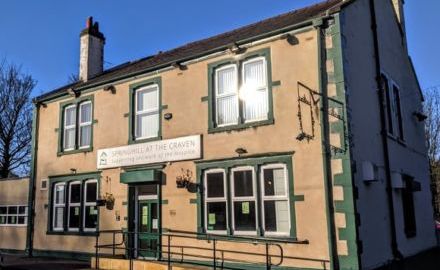 Coffee at the Craven Closure
Added 6th February 2020
We are very sad to announce the closure of Coffee at the Craven on 26th March 2020.<br>Thank you to all our customers over the years and also to our wonderful volunteers who have helped us run The Craven daily.<br>Click above to read our full statement.
As Springhill step into 2020 it is with a heavy heart that we have taken the decision to close Coffee at the Craven.
The venture as a tea room/coffee shop has been an exciting journey and it has been delightful to see the support from the local community grow over the years.
Julie Halliwell, Chief Executive stated "As the Hospice reviews its strategy and commitment to provide an excellent service of specialist care to those who need it across the borough we have also had to review running costs and income generation to support the delivery of these vital services."
Whilst the Craven remains a popular eatery, unfortunately, the maintenance and running costs of the building mean that it is no longer generating income for the Hospice.
Julie continued "As a Hospice we are committed to providing the quality of care and services for which we are renowned and have always been very fortunate to have the unwavering support of you, our local community to fund the services provided by Springhill. As we look towards the 20/21 financial year, following cuts to services across the borough and difficult decisions other Hospices have had to make to decrease services, we too are in a position where we are faced with a significant deficit budget. The Hospice plays a vital role in the borough and the help and support of our local community can ensure that we can continue to provide our services to you, your friends, your loved ones and your neighbours at a time when they need it the most".
Whilst the closure of Coffee at the Craven will also mean the closure of the Gift Shop within the Craven we'd like to remind our supporters that there is still a comprehensive range of products at our Gift Shop, Tommy's, based at the Hospice.
Springhill Hospice would like to extend their thanks to everyone who has visited and supported the Craven over the years, and for your understanding at this difficult time.
Julie Halliwell (Mrs)
Chief Executive